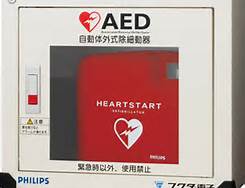 AED's - The Device that's Saving Lives
It is estimated that approximately 300,000 people in the United States experience cardiac arrest each year. In fact, it is said that more men and women die from cardiovascular disease in the United States than any other illness. If you suspect that someone is experiencing cardiac arrest, it is critical that they are treated immediately. Cardiac arrest can claim the life of its victim in nearly 10 minutes, which may not give paramedics enough time to arrive. Fortunately, advancements in technology are increasing the odds of reviving people who are suffering from cardiac arrest. Through the use of an automated external defibrillator (AED) ordinary people can help save lives.

Did you know that defibrillators can actually reestablish a normal rhythm...in turn, bringing back a normal heart beat? When a person goes into cardiac arrest, the heart no longer functions appropriately, causing starvation of oxygen. Without oxygen, vital organs begin to fail. A defibrillator can get the heart working properly again, restoring oxygen flow. Surprisingly enough, defibrillators first appeared as early as the 1890s; although it's taken many more years to refine them. Today almost anyone can buy an AED, a defibrillator that is not much bigger than an IPAD. These innovative devices analyze the heart's rhythm for abnormalities and direct the user to deliver an electric shock to the heart if necessary.

What makes an AED truly amazing is its ease of use and dual function. AEDs use voice prompts to instruct the rescuer. Once the device is turned on, electrodes are to be placed on the victim's chest. At this time, the AED will begin monitoring the victim's heartbeat. If an abnormality is detected, the AED will prompt the rescuer to stand clear of the victim and press the shock button. The victim's best chance for survival is within the first three minutes of collapsing. After the initial shock, the victim's survival rate will begin to drop dramatically. If there is no pulse after the first shock, it is important to administer CPR and reanalyze the heart rhythm until an EMT or Paramedic arrives.

Many public places and businesses have AED's readily available at their facilities. People high at risk for heart problems are also urged to buy an AED for use at home. When the critical time comes, combined with first aid training, AED's can prevent the untimely death of a co-worker, student or loved one. If you're considering purchasing an AED for your home, business or another location, you'll want to be sure that you're buying a quality device that will be ready at the time of rescue. Keep in mind that you will need an AED permit which is available through our AED store for free. One highly rated AED is the Philips HeartStart Onsite (just one of several Philips AEDs). It is also recommended that you purchase an extra AED electrode cartridge for adults or even a pediatric (child pads) as well. A Philips AED is just one of the many trusted brands available to you. We also carry Medtronic Physio Control Lifepak CR plus, Medtronic Physio Control Lifepak 1000, Heartsine Samaritan Pad, Cardiac Science Powerheart G3, Defibtech Lifeline, Zoll AED Plus and all AED Trainers and Oxygen (02) units. Discounts are available when purchasing more than one AED. Our AED store also includes Pads, Batteries, Cases, AED Response Kits, AED Inspection Tags, and AED window / door stickers.

First-aid and AED training can be invaluable. For over 13 years we have been teaching American Heart Association (AHA) and Red Cross certification classes. We are licensed and insured and have offices in West Palm Beach, Coral Springs and Fort Lauderdale and ship across the U.S. In addition to being a CPR company, we are an AED distribution center. We have a great knowledge of how AEDs are used and why they are so important. Some of our most satisfied clients include retail stores, churches, dental offices and universities.

If you reside in Miami, West Palm Beach, Coral Springs or Fort Lauderdale, Florida, you'll be pleased to learn that AED and CPR training is available. We also ship aeds all over the United States. While using an AED machine is relatively simple, an AED training course will enforce appropriate responses to life threatening situations and provide information that will increase the chances of successful rescue. In addition we offer many other courses including CPR, AED, first aid, BLS, PALS, ACLS, oxygen and bloodborne pathogens. Each course will provide you with a 2 year certification in that particular subject. The CPR Combo Class allows you to obtain a certificate for CPR, AED and first aid covering adult, child and infant all on the very same day. If you're interested in purchasing an AED or Learning more about CPR, please visit our CPR Schedule or AED store or contact us to learn more.

This is just a couple of the AED that are on the market they all work the same and one is not better than any other. So get the AED that fits your need the best.


---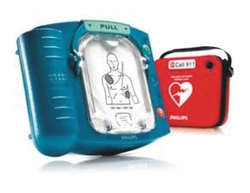 The Philips HeartStart family of automated external defibrillators (including the OnSite, FRx, and FR2+ models) is the most popular in the world, and with all the available features you get, it's easy to see why! And take a look at all of the items we include with your Philips OnSite ... you'll know the AED Superstore has the best deal.

The Philips HeartStart OnSite AED is a portable, lightweight (just 3.3 pounds with electrode pad cartridge and battery pack) automated external defibrillator available over-the-counter and it's so easy to use. Its voice prompt system even has "on-demand" CPR coaching to help you remember all of the steps during your resuscitation effort. Do you need pediatric capability? No problem! The Philips HeartStart OnSite has optional pediatric electrode pads available. As a matter of fact, the AED Superstore has all of the accessories available for your Philips OnSite AED including cases, cabinets, and training items. The Philips HeartStart OnSite AED makes training a snap, too. Purchase the OnSite AED training electrode cartridge and you can convert your working Philips AED into a non-shocking trainer. When you're finished, reinsert the adult electrode pad cartridge to make your Philips HeartStart OnSite AED ready-to-rescue. Philips has long recognized the importance of delivering life-saving shocks to patients quickly and efficiently. That's why Philips Healthcare is proud of all of their HeartStart defibrillators' "Quick Shock" capability. It takes less than 10 seconds to deliver a shock after pausing CPR which means less wasted time during critical moments with Philips HeartStart AEDs. Philips backs up the HeartStart OnSite AED with a 5-year factory warranty layered with an additional 4-year battery warranty. That's peace-of-mind protection you won't find on many other devices.


---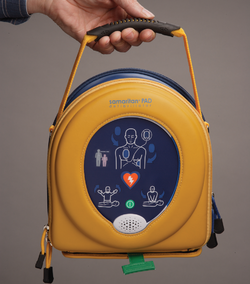 The HeartSine samaritan PAD AED
from the AED Superstore staff

Why buy? Smallest and lightest AED available, extremely water and dust resistant, single electrode pad/battery expiration date to monitor

Every new AED on the market has a feature or two that makes it different from all the others. Of the standard features on the HeartSine samaritan PAD AED, we found the size and weight especially noteworthy. After a comparison of all the AEDs available, our staff agreed the samaritan PAD AED is no doubt the smallest and lightest model available (weighing in at a mere 2.4 lbs with the Pad-Pak battery inserted!) This is obviously the AED to get if you have to carry one a lot. Put it in a duffle bag or backpack and there'll be plenty of room left for other stuff to take with you. A few of our staffers even thought of some aircraft and boat owners who should be all over the HeartSine samaritan PAD AED!

Small and light do NOT equal "fragile," though. Indeed HeartSine stands behind their samaritan PAD AED with up to a 10-year warranty (compared to 5 years on most other models which is still very significant.) Additionally, it has a high "MIL" specification rating and an IP Rating of 56. Our conclusion can be summed up in a word: rugged.

Although we've gushed over the portability of the HeartSine samaritan PAD AED, we've got to say it's also great for businesses, schools, churches and any other place you'd deploy an AED.

Another unique feature we found to be quite convenient is the easily replaceable PAD-PAK. It's a combination battery pack and adult electrode set in a cartridge form with a long and typical 4-year shelf-life. The convenience is you don't have to keep track of separate expiration dates for electrodes and batteries. All you do is toss the used or expired PAD-PAK and replace it with a new one. And in case you're curious, there is a pediatric option, too.

Some of our staff had never heard of HeartSine Technologies prior to the release of their samaritan AED line so we decided to look into the company a little further. The legacy of HeartSine takes us back to the actual invention of the portable defibrillator in 1966 and the key people directly involved. One of those people, Professor John Anderson (MPHIL, PhD Medical Engineering) founded HeartSine Technologies, Inc. in 1997.

As for the technicalities, the HeartSine samaritan PAD is a low-energy biphasic device. The HeartSine samaritan PAD AED performs regular electronic self-tests on itself and you can tell it's ready-to-use by the visual indicator on the face of the device. It also stores up to 45 minutes of patient rescue data for later retrieval. There are no storage or memory cards to buy, but HeartSine's PAD-SAVER software and cable are required.

Plenty of accessories are available for the HeartSine samaritan PAD AED, too. If you're thinking about storing the device in an AED cabinet, we recommend the compact-sized line. This AED is small enough that it will look "lost" putting it into a standard size cabinet.

If you'd like more details on the HeartSine samaritan PAD AED, scroll up to the gray "Quick Links" box above where you'll find manufacturer brochures, an online demo, package specials, and plenty of other information. Scroll down to see the accessories we have available for you. Remember, we include a long list of items with every HeartSine samaritan PAD AED you order.


info@cprnorthwest.com or (503)538-2610
---